Natalie Clark has been swimming with various U.S. Master's programs for over 20 years. She had just recently taken the plunge into coaching. Natalie is a Level 3 U.S. Masters certified coach. She is very excited to coach at the Fresno High pool. Interesting side note, Natalie received her first swim certification in the Fresno High pool in 1976 when she was 5 years old.
Megan Zaninovich began swimming as a freshman at Edison High School. She went on to attend UCSB and continued to swim for fitness while there. Megan has been swimming with U.S. Masters for almost ten years (with a few breaks in between). She is excited to add to the U.S. Masters offerings in the Fresno area, as a Level 2 U.S. Masters certified coach. Aside from swimming, Megan also loves to travel, bake, and would be sorted as a Hufflepuff.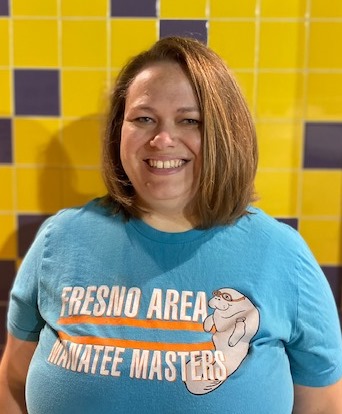 Annika Knutson learned to swim as a toddler while spending summers with her family at Huntington Lake. She continued to swim in a summer recreation league from 1st to 12th grade in Lodi. Annika went on to attend Fresno State and swam for fitness there. Annika joined U.S. Masters in 2019 after 6 years away from the pool. She was certificated as an Adult Learn To Swim instructor in 2019 and looks forward to introducing swimming to communities that are often left out of the swim world. Aside from swimming, Annika enjoys taking care of her many pets, gardening, and reading.
Dianna Short is a recent swimming enthusiast and is a Level 1 U.S. Masters certified coach. She has a passion for fitness and bringing other workout elements to the F.A.M.M.